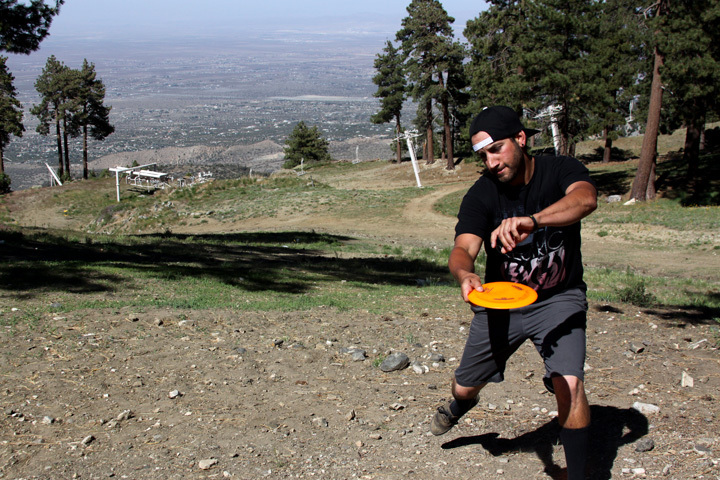 The Sky High Disc Golf course is now open Fridays, Saturdays, Sundays and Holidays from 8:00am to 5:00pm.  We have delicious BBQ, pizza, beer, and more.  Prices are just $7.00 for a full round of 27 holes or $35.00 for a season pass.  Mountain High offers a full line of disc golfing accessories including everything a beginner needs to get started.  There are also drinks and snacks in the pro shop to satisfy every member of the family.
Come play Southern California's only disc golf course above 6,000 feet.  Originally designed by Dave Dunnipace, owner of Innova Disc Golf, the Sky High Disc Golf Course is touted as one of the best in the region with its incredible variety and scenic views.  Broken into three 9-hole courses, a full outing takes you on a 2.5 mile hike through the historic Angeles National forest where players are apt to see hawks, deer, coyotes and more.  Snowcapped mountains to the West line the course and long, desert vistas stretch out to the East providing a landscape of scenery only found at Mountain High. 
Says Tom Bant, avid disc golfer, "The design of the course is brilliant.  Most Southern California courses are found in regional parks but this one has all kinds of variety with long holes, short holes, up hill, down hill, you name it.  And it is one of the most beautiful courses I've ever played."
Mountain High hosts a variety of events each summer including the Sky High Showdown in early June, part of the Southern California Disc Golf Tour and the PDGA Tour.  These contests regularly sell out so for more information on competitions or the course itself, please call
The Sky High Disc Golf Course is located at Mountain High's North Resort.  You'll find the entrance road directly across from the base of West.  Click here for directions.  This marks the course's 15th year in operation.  (Disc golf didn't take place in 2001 when the Angeles National Forest was closed due to fire dangers.)  For pricing, programs, and directions please click here.