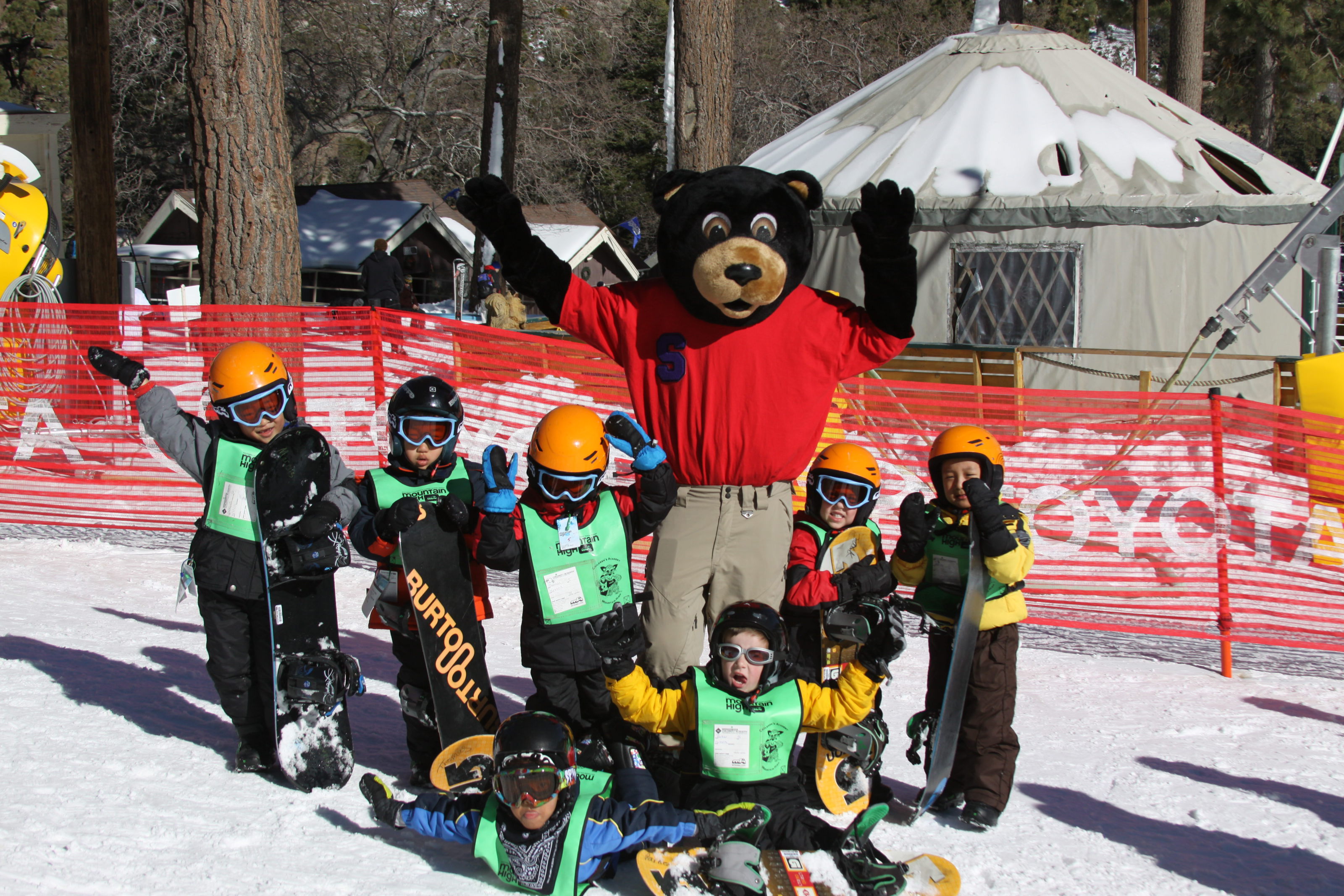 Mountain High is where Southern California learns to ski & snowboard, and this year we have increased the size of our Children's Sports Center to accommodate even more students ages 4 to 12.  Located adjacent the Bullwheel Grill, this two-story facility is now complete with rentals, restrooms, warming stations and more.  Parents can pick up their tickets and rentals here or book online (mthigh.com) and have their lesson packets waiting for them when they arrive.  This also guarantees their lesson reservation in case of a sellout.
For first-time skiers and snowboarders, the experience begins in the West base area at the newly-established Winter Sports School reception kiosk.  Here guests can purchase tickets, pick up rental paperwork, and check in for lessons.  They are then are escorted to a 400 foot moving carpet that whisks them up to the Children's Sports Center and adult lesson meeting area.  After the lesson or during mid-day breaks, families can warm up in the newly- remodeled Bullwheel Grill and enjoy updated menu items ranging from mouth-watering burgers to heart-healthy options for kids.
On the snow Mountain High has partnered with Burton to offer a new Burton Youth LTR (Learn To Ride) Center and implemented Terrain-Based Teaching.  When combined, these two elements have been proven to help students progress faster and have more fun on the snow.
Burton Youth LTR Center
Since 1998 Burton has featured beginner-specific equipment and learning programs.  Today they partner with more than 190 resorts and offer a full range of Learn To Ride programs and parks.  Resorts partnered with Burton not only have the training and experience to work with kids of all ages, but also they have the boards, boots, and bindings to provide the best start.  Soft-flex boards with catch-free edges make the boards easy to control, and Velcro boots & bindings are something even a small mitt-covered hand can manage. Throw a Riglet towing accessory on the smallest boards and no child is left behind.  Interactive stations allow kids to maneuver over, under, around, and through sculpted terrain and features.  Balance, weight transfer, edging, and freestyle are learned through fun and play.  Lessons begin at age 4 and include individual attention and feedback with small class sizes in a safe and friendly environment.  By integrating play into snowboarding and using an interactive environment, kids have more fun and get better results.   
Terrain-Based Teaching
Terrain-based teaching zones are the newest thing when it comes to making learning easy and fun.   Features such as banks, berms, camel humps, and mini-halfpipes, let guests feel the natural movements of their equipment while reducing fears, reducing falls, and increasing the overall excitement.  Students learn to go with their momentum rather than fight against it because the terrain does the work.  The result transforms a "traditional" lesson taught on the bunny hill into a beginner experience that keeps students engaged and coming back.  Visit mthigh.com/lessons for more information.
Says John McColly, CMO, "By using terrain to initiate certain actions, students feel the proper movement of their equipment almost immediately, and their confidence skyrockets.  It's amazing how well it works."
Discount Family Packages
The family that skis together stays together, which is why Mountain High developed a new discount Family Package to help parents and kids unite on the slopes.  Now available midweek, non-holiday*, families can purchase one adult lift ticket, one child's lift ticket (ages 12 and under), and two $10 meal vouchers for just $89.00.  That's a $104 value!  For a more comprehensive experience, guests can add a lesson and rentals for just $30 more per person.  Or add additional tickets & meal vouchers for just $59 per adult and $30 per child 12 and under.  This discount package lets families customize their purchase and save up to 20%.  Only Mountain High offers this level of flexibility in Southern California.
We invite you to "bring the family closer" this winter with lesson programs and discounts designed to intrigue the whole family.  From the new Burton Youth LTR Center to terrain-based learning zones, no other Southern California resort is as committed to you and your family's learning experience as Mountain High.