El Niño has been known to cause prolific increases in Southern California's snowfall and this year the National Weather Service is forecasting the return of the wet weather phenomenon in these color outlook maps published July 19th, 2012. 
El Niño is specifically good for Mountain High because of its location in the San Gabriel Mountains of Southern California, where 278 inches of snow fell during the 2004/2005 season and a momentous 310 inches of snow dropped during the 1997/1998 El Niño season.  Quite impressive, considering the average at the time was just over 150 inches.   
This year, there is a real possibility of a repeat performance.  After two straight precipitation-reducing La Niña seasons, the folks at the National Oceanic and Atmospheric Administration (NOAA) and other climate agencies are predicting a strong chance that the western hemisphere will experience an El Niño season beginning in September of 2012 and running at least into Spring of 2013.  More powder, more fun, more reasons to venture out to Mountain High.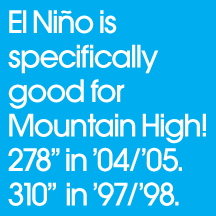 But what exactly are La Niña and El Niño, and why should we care?  For the record, both are caused by easterly trade winds blowing over the Pacific Ocean near and around the equator.  In the case of La Niña, the easterly winds get stronger, blowing more warm water out to the west.  The opposite is true for El Niño.  The strength of the easterly trade winds diminishes, and in some cases actually, reverses direction blowing warmer surface waters toward the Western Hemisphere with dramatic climactic consequences.  The increased precipitation caused by El Niño means heavy rains in Los Angeles and "snowmegaddon" in the mountains with deep snow packs that last from November through May.  
Whether you ski, snowboard, belly flop, or just enjoy the beautiful white landscape, this winter has the potential to be very, very fun.  Make sure you are ready with a Season Pass to Mountain High.  Discounts of up to 50%, layaway programs, and FREE skiing at Stevens Pass, WA, are just a few of the great reasons to get one.  Sale starts September 1st so visit http://www.mthigh.com/season-pass-sale for more information.
El Niño winter, no mountain driving, terrific season pass deals.  These reasons combined with their great staff make Mountain High the perfect Southern California winter sports destination.  With three separate areas they have terrain for every level of skier and snowboarder and, if skiing isn't your forté, the snow tubing is fun and exciting.  Snow is coming to Mountain High this winter -- so should you.  For more information or to schedule an interview, please contact Kim Hermon at 760 316 7830 or kim_hermon@mthigh.com.