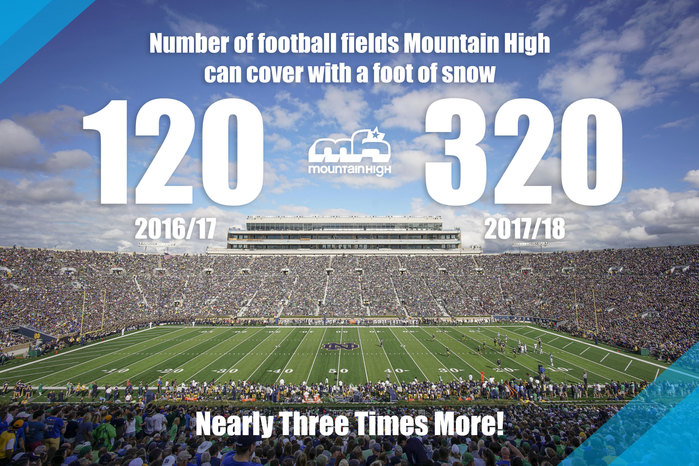 Water water everywhere!  Thanks to last year's massive winter Mountain High's reservoirs are swelling with water for the coming season.  We can make nearly three times as much snow as last winter and that means earlier openings. longer seasons, more days at the East Resort, and more snow features in the park.  Water is everything to winter resorts like Mountain High and this year we are excited to have our ammunition back.  Here is what this means to you.
Earlier Openings – Mountain High is traditionally the first resort to open in Southern California and now that we have plenty of water, we can open earlier with better coverage.
More Days At The East Resort – The East Resort is many people's favorite with its perfectly groomed slopes and long, 1.6 mile runs.  This winter the "Beast is Back" with more snow top-to-bottom, earlier openings, and more days of operation.
More Snow Features – More water means more terrain features, bigger snow features, and a better park overall.  It is our goal to restore the park to its former glory and reinstate Mountain High as a leader in terrain park design.
Longer Seasons – Mountain High typically operates from mid-November through mid-April but the resort has closed early the past couple of winters.  Now, with three times the water, Mountain High will be able to extend its season well into April if not May, increasing it by 30-40 days.
Deeper Base – More water means more snow, a deeper base and better coverage on all your favorite trails plus at the North Pole Tubing Park.
More Trails – Thanks to increased snow there will be more open trails this season giving skiers and snowboarders a chance to spread out and discover new terrain.     
Snow is everything and if you have been wondering why you should get excited about the coming season, it is because Mountain High has nearly three times the snowmaking capacity it has had the past few years.  This means earlier openings, longer seasons, better conditions, deeper base, more available terrain, more resorts open, and more terrain features all around.
The 2017/18 season is quickly approaching.  Make sure you are ready with a Mountain High season pass.  Purchase for just $299 between September 1st-10th and receive a free buddy ticket worth $79. Click here for complete details.  http://www.mthigh.com/site/tickets-and-groups/season-passes/season-pass.html