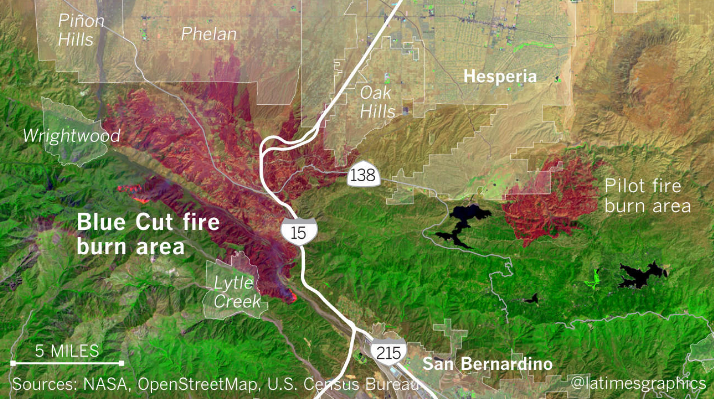 Incident Overview
The Blue Cut Fire started on August 16, 2016 at 10:36 AM in the Cajon Pass along Old Cajon Blvd. north of Kenwood Avenue west of Interstate 15. The fire quickly spotted across Cajon Creek and grew into a large wildland fire. During the course of the fire fight, railroad lines, local roads, highway 138 and Interstate 15 were closed along with a large evacuation area that included Lytle Creek, Wrightwood, Summit Valley, Baldy Mesa, Phelan and Oak Hills. 

At the peak of the battle to control this blaze there were 2,684 personnel actively involved in the fight to contain the Blue Cut Fire. These personnel have come from all over the nation to help with this firefight.

The Cause of the Fire is under investigation, however investigators need your help to determine the fire cause. If you seen anything, heard anything have photos or videos, please call We Tip 1-800-47-ARSON or submit your tip online at: http://wetip.com/ 

California Incident Management Team 4 is managing the incident, in unified command with the US Forest Service, CAL FIRE, San Bernardino County Fire, San Bernardino County Sheriffs Department, and the California Highway Patrol.