Sat Mar 31 2018 - Activities begin at 11am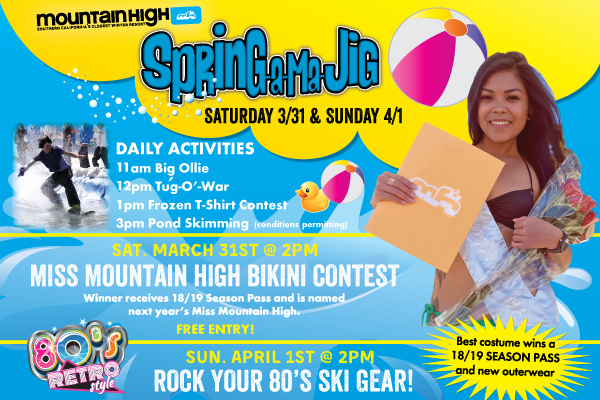 Spring-A-Ma-Jig, Mountain High's annual spring break celebration, returns Saturday & Sunday, March 31st - April 1st.  Daily events include tug of war, the Big Ollie, pond skimming and the frozen t-shirt contest. Other Spring-A-Ma-Jig activities include live music, DJ's, vendors, giveaways and plenty of spring break fun in the sun.
Daily Activities
11:00 a.m. – Big Ollie – Snowboarders must "ollie" as high as they can in this heart-pumping competition. The bar goes up after each round until only one rider remains.
12:00 p.m. – Tug of War – A new spin on an old favorite,  this tug of war takes place in the snow and the losing team might end up in the pond.
1:00 p.m. – Frozen T-Shirt Contest – 10 t-shirts have been frozen in the icy tundra of Mountain High's North Resort and the competitors must break them apart and put them on. The first contestant to put on their frozen shirt wins a goody bag filled with Mountain High swag.                   
3:00 p.m. – Pond Skimming – This is the quintessential event of any spring break. Skiers and snowboarders must cross a 50-foot pond filled with freezing cold water or suffer the consequences.
Miss Mountain High Bikini Pageant - 2pm Saturday, March 31st
Help us pick the new Miss Mountain High. The pageant is free to enter and the winner takes home a 2018-19 Mountain High season pass. All contestants must be 18 years of age or older.  Check-in takes place at the Mountain High tent on the West Resort deck. The competition kicks off at 2:00 p.m. Immediately following the event is a meet-and-greet session with the new Miss Mountain High. This is one of Mountain High's most popular events, so guests are encouraged to arrive early for the best seats.
---