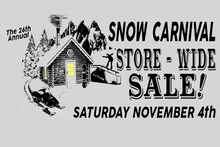 Surfside Snow Carnival:
The Surfside parking lot located at 233 East 17th St. Costa Mesa, CA, 92627
The Snowboard Carnival is a highly anticipated event. Crowds of hundreds come to the carnival to prepare for the upcoming snow season. Customers come to see new product, take advantage of our one day sale, and win raffle tickets for prizes.