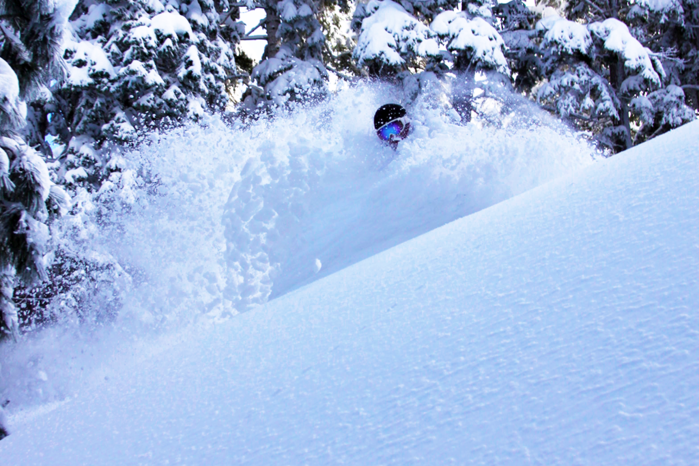 We understand how hard summers can be for dedicated shredders who can't wait to return to the slopes. Some people just aren't built to be out in the punishing sun with zinc slathered on their nose.
We'd rather spend our time shaking snow off our boots at Mountain High's West Resort with its huge terrain park, the Bullwheel Bar and Grill, and the Foggy Goggle where fashion shows, movie premieres, and live performances are held on a regular basis. In fact, apres ski at Mountain High is so much fun, the resort stays open every night until 10p with 85% of the trails lit.
But if you prefer spending your weekends vacuuming sand out of your car or talking about the season finale of the Bachelorette, be our guest. That sounds like a lot of fun.
Excuse us but we're going to hole up and sleep through Labor Day with fans pointing at our face while dreaming about the East Resort with its 1,600 feet of vertical and the Olympic Bowl, the longest, steepest bump run in the region.
Sorry summer. Some people are just not that into you. We prefer piling on the layers rather than taking them off. We're the ones longing for the first fresh powder of the season when cold air caresses your face. We are Mountain High people. The same people who grew up at the North Resort, with its 70 acres of beginner terrain and the North Pole Tubing Park. I remember celebrating my birthday there, filling all 12 lanes with my friends and freaking out when the Yeti appeared.
For you good people — our people — we say take heart! Winter is just months away and given recent reports of El Nino, this could be one for the record books. During the last big El Nino in 1997/98 Mountain High received 310 inches of natural snow. Can you believe it?
But even if the snowfall ends up being disappointing, Mountain High has you — and the mountain — covered with one of the largest snowmaking systems in the country. This is why Mountain High is the first Southern California resort to open…so you powder heads can get your fix as soon as possible.With free shuttle service between East & West, and a single lift ticket good at all three resorts (except the Tubing Park), it's easy to switch up your view of the Mountain and enjoy the unique offerings found at each area.
To stay on top of snowfall amounts, road conditions and operating hours, be sure to sign up for the Powder Alerts (text or email) so you'll be the first to know when the flakes fall.
Then dust off your board, say goodbye to summer and get your season pass because it's time to start thinking about winter and the epic season you'll be having at Mountain High. We'll see you there!