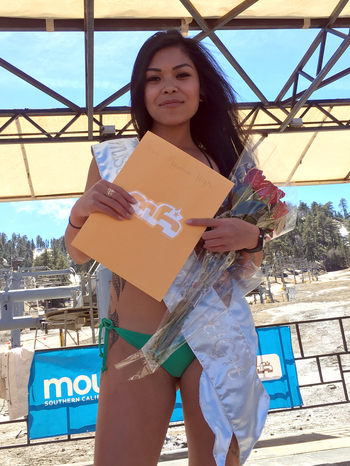 Congratulations to MJ, the new Miss Mountain High!
---
Miss Mountain High Bikini Pageant, 1:00pm Sunday, March 26th, 2017
Spring-A-Ma-Jig, Mountain High's annual spring break celebration, returns Sunday, March 26th, with classic events like Miss Mountain High bikini pageant.  Come enjoy the warm weather and fun, spring conditions at Mountain High's Spring-A-Ma-Jig.
Help us pick the new Miss Mountain High.  The pageant is free to enter and the winner takes home a 2017/18 Season Pass.  All contestants must be 18 years of age or older.  Check-In takes place at the Mountain High tent on the West deck from 11:00am to 12:00pm.  Competition kicks off at 1:00pm.  Immediately following the event is a meet & great with the new Miss Mountain High.  This is one of Mountain High's most popular event so guests are encouraged to arrive early for the best seat.
Helpful Hints
Bring some "walking around" clothes for before and after.  It may be chilly.
Bring a friend to hold these clothes and help you keep warm before and after your appearance.
Bathing suits should be tasteful.  We prefer no thongs.  Bikinis are not provided.
Mountain High has the rights to all photos and video it shoots at the event. Your image may be used to recap the event, promote future events, and more.