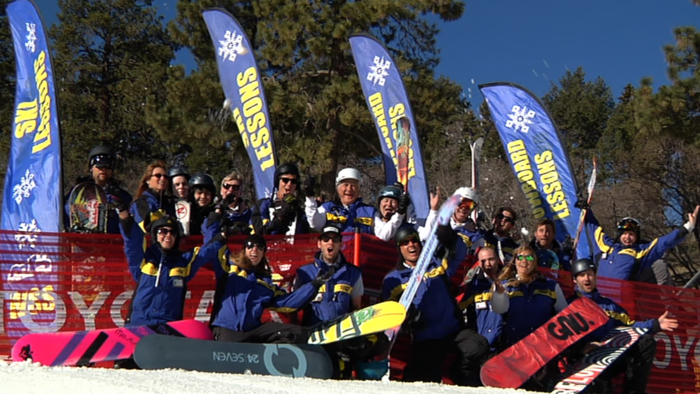 January is Learn to Ski and Snowboard Month and Mountain High will be offering special lesson packages for visitors eager to learn how to ski and snowboard.
"The new year is the perfect time to learn for anyone who has wanted to put on a pair of skis or hop onto a snowboard," said John McColly, Mountain High Chief Marketing Officer. "Skiing and snowboarding are both fun, healthy ways to enjoy the great outdoors and take in the beautiful Southern California weather."
Mountain High has earned its reputation of being the place where Southern Californians learn to ski and snowboard. Beginning January 8, guests can purchase a midweek half-day first timer package complete with lesson, rentals and a lower-mountain lift ticket for just $105 and receive a second first timer package free for a friend to be used the same day. This two-for-one special is for adults ages 13+ and available online only at https://shop.mthigh.com/january-lesson-special
During the first lesson, participants will learn how to properly use their equipment, balance and execute basic maneuvers such as sliding and stopping. It is important to remember that learning to ski or snowboard is not a one-time event, but rather a lifestyle. Mountain High's certified instructors teach proven techniques with the latest equipment and the resort's lesson programs have some of the highest success rates in the country with lessons available for all skill levels.
Be sure to keep practicing because studies show that most people require three lessons to really get the hang of skiing and snowboarding.
To help support continued learning, Mountain High guests can buy a "1, 2, 3, Free" package anytime during the current season. This three-visit beginner package includes three one-hour and 45-minute lessons, rental equipment and lower mountain lift tickets for $179. Once guests complete all three lessons, they receive a free eight-hour lift ticket (valued at $79) to enjoy. The package can be used any non-holidays (holidays include the following 2018 dates: January 1-7, January 13-15 and February 17-19).
"Classes at Mountain High are definitely the best way to learn how to shred the mountain," said McColly. "We want to help make sure we continue to grow participation locally and beyond in our favorite sport – skiing and snowboarding."
Learn to Ski and Snowboard Month is a designated time each year when venues across the U.S. offer special programs for those who want to learn how to ski or snowboard. The initiative is supported by the ski and snowboard industry including national, regional and state associations, resorts, industry trade media, retailers and more.
For more information including events, updated ticket prices and hours of operation, visit mthigh.com or follow on Twitter @mthigh, Instagram @mthighsnow and Facebook.
About Mountain High
Mountain High is Southern California's closest winter resort, located just 90 minutes from Los Angeles and Orange County. Mountain High Resort consists of three separate mountains: West Resort, East Resort and North Resort. Mountain High offers a wide variety of lifts and trails, a world-class terrain park, an outstanding winter sports school and the region's largest tubing area. Night skiing and snowboarding are available seven nights-a-week during peak season and snowmaking covers more than 80 percent of the slopes. Visit mthigh.com for more information. Mountain High is an equal opportunity service provider operating under an Angeles National Forest special use permit.
# # #