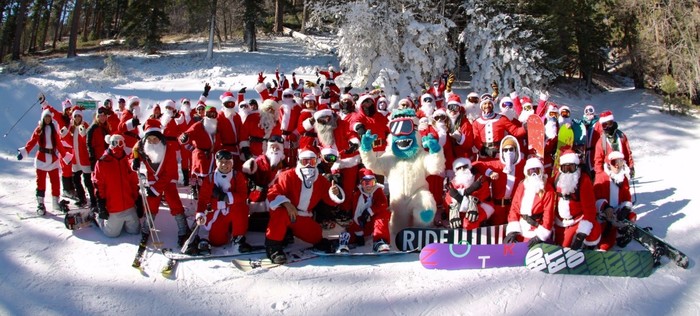 Skiers and snowboarders dressed in Santa Claus costumes are invited to Mountain High, Sunday, December 17th, to participate in the third annual Santa Sunday. This holiday event serves as a fundraiser for Protect Our Winters (POW), a climate change advocacy group for the snow sports community.
"We created Santa Sunday two years ago to raise awareness and funds for Protect Our Winters, a cause that's deeply personal to all of us here," said John McColly, Mountain High Chief Marketing Officer. "Climate change continues to have a significant impact on winter resorts and we are doing what we can to help."
Protect Our Winters, a nonprofit charity, seeks to engage and mobilize the snow sports community to lead the fight against climate change through educational initiatives, advocacy and community-based activism.
"We're very happy to be part of this event for the third-consecutive year," said Torrey Udall, Protect Our Winters Managing Director. "Aside from creating a lot of holiday cheer, it provides us with resources to protect the winter season that we all depend on. We are thankful to Mountain High for supporting us with this Christmas time fundraiser."
To take part in Santa Sunday, guests are asked to pre-register for the event and donate a minimum of $20 to Protect Our Winters. Quantities are limited to the first 100 Santas. Receipts for online donation must be presented at registration to claim a day ticket (an 8-hour ticket is regularly $79).
Once a skier or snowboarder has successfully registered, including making his/her donation, that participant must wear a Santa suit, complete with hat, beard, coat, belt and pants to Mountain High on December 17. Participants must pick up their tickets, sign liability forms and be at the Snowflake chairlift at 9:15 a.m. to participate in the group Santa ride.
Santa Sunday Schedule:
·         8:00 a.m. – Arrive early, pick up ticket in Big Pines base lodge. Bring POW donation receipt, photo ID and completed Santa liability form.
·         9:15 a.m. – Meet at the bottom of Snowflake chairlift for photos
·         10:00 a.m. – Meet at the bottom of Blue Ridge Express for Santa group ride
·         11:00 a.m. – Hashtag all Santa photos with #mhsantaselfie to win 
For more information including ticket prices and hours of operation, visit mthigh.com or follow on Twitter @mthigh, Instagram @mthighsnow and Facebook.
About Mountain High
Mountain High is Southern California's closest winter resort, located just 90 minutes from Los Angeles and Orange County. Mountain High Resort consists of three separate mountains: West Resort, East Resort and North Resort. Mountain High offers a wide variety of lifts and trails, a world-class terrain park, an outstanding winter sports school and the region's largest tubing area. Night skiing and snowboarding are available seven nights-a-week during peak season and snowmaking covers more than 80 percent of the slopes. Visit mthigh.com for more information. Mountain High is an equal opportunity service provider operating under an Angeles National Forest special use permit.