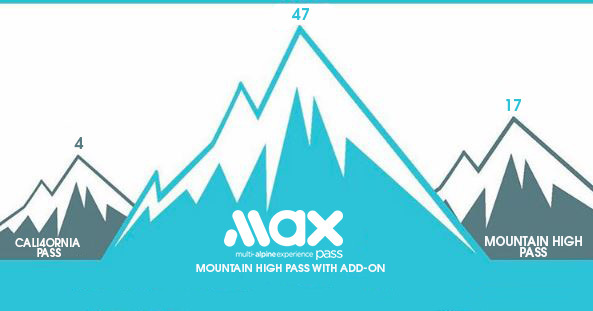 Upgrade your 16/17 Season Pass to the MAX Pass before October 11th, 2016, and get access to 31 more resorts.  Receive five (5) days at each with no blackouts!
Mountain High's 16/17 pass holders are eligible to purchase the M.A.X. Pass Add-on for just $299 Adult, $249 Teen (ages 13–17), $199 Youth (ages 6-12), and $39 Child (5 and under). The M.A.X. Pass Add-on provides five days of skiing/riding at each participating resort.  Current prices available through October 11, 2016.  Add-on pass price increase $50 October 12, 2016.  For more information visit www.theMAXpass.com.
No Blackout Dates
The M.A.X. Pass is valid the entire 2016-2017 ski season at all 32 mountains with no blackout dates meaning all holidays are included.  Days do not need to be used consecutively and days are not transferrable from one mountain to another.

Participating resorts by North American region include:
West
Alyeska, Alaska
Boreal Mountain, California
Cypress Mountain, British Columbia 
Crystal Mountain, Washington
Lee Canyon, Nevada
Mountain High, California
Mt. Bachelor, Oregon
Stevens Pass, Washington
The Summit at Snoqualmie, Washington 
Rockies
Big Sky, Montana
Brighton, Utah
Copper Mountain, Colorado
Crested Butte, Colorado
Eldora, Colorado
Solitude, Utah
Steamboat, Colorado
Winter Park, Colorado
Midwest
Boyne Highlands, Michigan
Boyne Mountain, Michigan
Buck Hill, Minnesota
Northeast/East
Blue Mountain, Ontario
Killington, Vermont 
Loon Mountain, New Hampshire
Mont Tremblant, Quebec
Mount Sunapee, New Hampshire
Mountain Creek, New Jersey
Okemo, Vermont
Pico Mountain, Vermont
Snowshoe, West Virginia
Stratton, Vermont
Sugarloaf, Maine
Sunday River, Maine
Wachusett, Massachusetts 
The "Multi-Alpine Experience" pass offers skiers and snowboarders five days at each of the 32 participating resorts for a total of 160 days on the slopes.  With no blackouts!  From day trips to ski vacations, the M.A.X. Pass allows winter sports enthusiasts the flexibility to travel to mountains they've never visited before.
Purchase your M.A.X. Pass ONLINE ONLY at theMAXpass.com.
For additional info, please email info@theMAXpass.com. Follow on social media at Facebook, Twitter and Instagram. #themaxpass