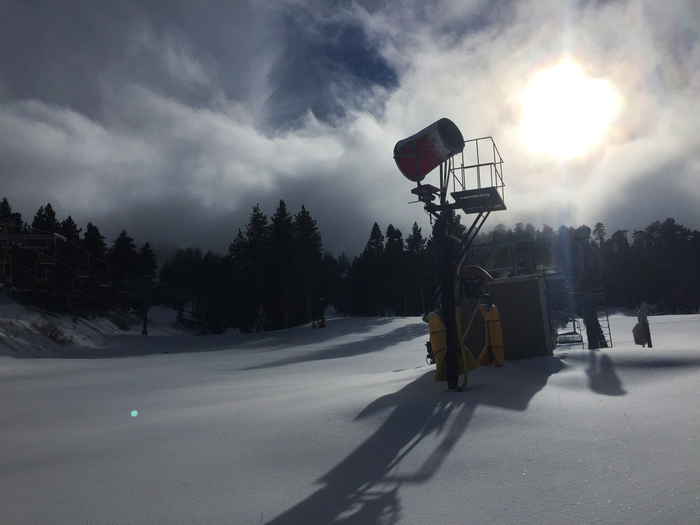 Not open today, but the 5-6" we received Monday is a great base to help us possibly re-open after another good storm. More storms are forecasted for later this month so keep doing those snow dances.  Winter isn't over yet. Traditionally our season ends in mid April so we still have at least a month left, and maybe more if El Nino truly show his face.  Please keep checking back for further updates. Questions?  Please contact us at season_pass@mthigh.com or toll free (888) 754-7878 ext 2.  Operators are available Monday – Friday from 10am to 3pm.
Tickets, Vouchers, & Lessons
Save your tickets!  Don't let them go to waste.  They are still valid should we reopen.  Tickets not used by close of the winter season will not be refunded and are not valid for use during the following season. 
4 Day Tripper - 4 Day tickets may now be split to share with family and friends.  Use up to 4 per day.
4 Night Ripper - 4 Night tickets may now be upgraded to day tickets for just $10 
Snow Jam tickets are now valid any day.
Season Passes
We've had some incredible powder days in this year but like me, I'm guessing you want more.  Show your Adult or Young Adult season pass at the following resorts and receive the associated benefits. 
Snow Valley – Free skiing or snowboarding any day through the end of the 15/16 winter season.  No restrictions.  Simply present your 15/16 Mountain High season pass and photo ID.  Click here to learn more about Snow Valley  http://www.snow-valley.com/ or call (800) 680-SNOW.
Brian Head – 20% Off adult weekend tickets now through the end of the 15/16 season.  Midweek tickets are just $35.  Simply present your 15/16 Mountain High season pass and photo ID.  Click here to learn more about Brian Head, UT http://www.brianhead.com/ or email ron@brianhead.com
China Peak - $36 Adult tickets any day while Mountain High is closed.  Regularly $72.  You save 50%!  Simply present your 15/16 Mountain High season pass and photo ID.  Click here to learn more about China Peak http://www.skichinapeak.com/ or email info@skichinapeak.com .
Powder Alliance Pass Holders
Your Mountain High Powder Alliance Pass gets you three free days at 13 Powder Alliance resorts plus Brian Head, UT.  That's 42 free tickets.  Don't let this winter pass you buy without taking advantage of everything your Powder Alliance pass has to offer.  Click here for a full listing of Powder Alliance resorts and restrictions.  
Winter Guarantee Extended to all pass holders
Due to the shortened season, Mountain High is extending its VIP Winter Guarantee to all pass holders.  Use your season pass four (4) times or less to be eligible for a credit towards next year's season pass.  Up to 50%!  Click here for our Winter Guarantee FAQ.
Use 0 to 2 days = 50% Off following season
Use 3 to 4 days = 25% Off following season
Says John McColly, CMO, "What's important about this is it gives control to the skier.  We based the credit on usage…not snowfall.  If a guest doesn't use their pass more than four (4) days for any reason, they'll receive a credit towards next season up to 50%."
All season pass purchases are non-refundable, non-transferable and not for resale.  Mountain High makes no guarantees as to the length or quality of the season.  Because of this we do not offer refunds whatsoever for any reason.
There is a break in the action but the season isn't over yet.  Winter has returned and we look forward to seeing you back on the mountain very soon.  For the latest information, please keep in touch with us at mthigh.com or email season_pass@mthigh.com