Sun Mar 27 2022 - 10am to 4pm
Join us for DAY 2 of Spring-A-Ma-Jig, our annual Spring Break Celebration with activities for both kids & adults. All events are free with paid admission. Daily activities include:
DJs
Drink Specials - Grab your friends and take a "Shot Ski" with Ukrainian Vodka 
Cornhole - Register before 11am. Teams of Two (2). $20 Team Buy-In. Winner takes home 50%.
Boxzilla
Scavenger Hunt
Special appearances by the Yeti
Goodr Sunglasses Doorbuster 3/27
Beginning at 8am, the first 100 guests to show a paid lift ticket for 3/27 or Season Passs receive a FREE pair of Goodr Sunglasses ($79 Value). Post and tag your Goodr Instagram photos with the following #hashtags for your chance to win a pair of 22/23 Lift Tickets. ($238 Value). Good Luck!
 Get wild. Get Crazy.  Put your "Goodest" face on.  Best post in our opinion wins. Awards at 4pm at the DJ booth.
Time
Event
Prize

10am

Big Ollie

Mountain High Prize Pack

Snowboarders must Ollie over an ever-rising bar.  How HIGH can you get?

11am

Frozen T-Shirt Contest

Mountain High Prize Pack

Ten (10) T-shirts have been frozen in the icy tundra of Mountain High's North Resort. Competitors must break them apart and put them on (over their clothes). The first contestant to put on their frozen shirt wins a goody bag filled with Mountain High swag.

12pm

Tug Of War

Mountain High Prize Pack

A new spin on an old favorite. This tug of war takes place in the snow and the losing team might end up in the pond.

1pm

Polar Bear Run (Snowflake Chair)

 
Donate a minimum of $25 to HELP UKRAINE and participate in our annual Polar Bear Run down Easy Street.

2pm

Pond Skimming

Mountain High Prize Pack

This is the quintessential event of any spring break. Skiers and snowboarders must cross a 60-foot pond filled with freezing cold water or suffer the consequences Helmets required!.
 4pm
King & Queen Of The Mountain
22/23 Season Pass ($899 value)
Help us pick Mountain High's new King & Queen. This SWIMSUIT PAGEANT is free to enter. Winners take home a 2022/23 Mountain High season pass worth $899. Immediately following the event is a meet-and-greet with the new King & Queen. Arrive early for the best seats.
King & Queen Of The Mountain: Tips & Guidelines
Please register by 2pm.
Must be 18 years or older to compete.
Bring some "walking around" clothes in case it is chilly.
Winners are judged by audience participation. Best personality usually wins.
Questions? Email us here.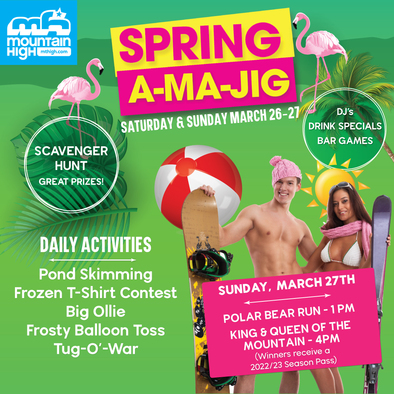 ---
Mike_childress@mthigh.com
760-316-7835
West Resort