Free smart phone apps, greener snowmaking equipment and Hollywood icons in the terrain parks are also among new features Mountain High guests will enjoy this season.
Wrightwood, CA – September 16, 2011: Not resting on its reputation as the most popular winter resort in Southern California, Mountain High invested more than $1,000,000 this summer upgrading and its infrastructure in preparation for a half a million guests this winter season. New are free apps for iPhones and Androids, a fifty-foot Bagjump lading pad, increased snowmaking capacities with reduced water and power use, Los Angeles-based terrain park features, a new Bison X Park Cat, a Zaugg Pipe Monster, expanded night lighting, the Foggy Goggle Lounge, and a state-of-the-art rental system. Since 2000 Mountain High has invested more than $10 Million its ongoing commitment to being Southern California's most sought out winter resort.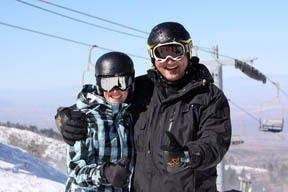 FREE APPS FOR IPHONE AND ANDROID
New in Mountain High's free apps for both iPhone and Android operating systems are GPS tracking capabilities that allow guests to pinpoint themselves and locate their friends on the mountain. Season Pass and Express Pass users can also track their days ridden, runs per day, vertical feet, and more. There will be realtime on-mountain conditions, terrain park updates, snowmaking overviews, custom weather forecasting, and the latest photos, videos and live cam images. The new app's social media features include quick links to Mountain High's Forum, Facebook, and Twitter pages, and guests can upload photos from the mountain directly to their sites. The app can be downloaded at mthigh.com, the Apple APP Store, and the Android Marketing place beginning November 2011.
NEW BAGJUMP
Great for practicing new tricks, Mountain High is introducing Southern California's first Grande Bagjump™, a 50 foot air-filled cushion that lets snowboarders and skiers perfect their moves with less fear of injury. The Bagjump™ has proven to be popular with athletes of all levels from beginners who are just getting started to professionals gearing up for competitions such as the X-games or the Olympics. Bagjump tickets will be $5 for a single jump, $10 for three jumps, or $15 for five. Season passes to the Bagjump are also available for $100.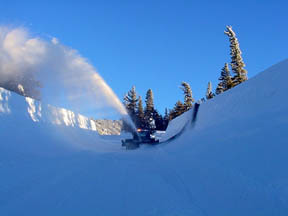 NEW IN THE TERRAIN PARKS
Mountain High is Southern California's hot spot for freestyle snowboarding and skiing. This year they are launching a series of new features that replicate iconic Southern California landmarks including stair rails, quarterpipes, and wall rides. These are not Mickey Mouse features and they'll be built with the latest in park equipment including a new 18-foot Zaugg, Swiss-made Pipe Monster, and a new Bison X Park Cat from Prinoth. The Zaugg pipe cutter earned its credentials at events like the US Open of Snowboarding Championships, the ESPN Winter X-Games and the World Cup. The Bison X represents the latest in technology delivering massive results while being relatively stingy on fuel. Its centrally located driver's seat optimizes visibility while advanced joystick-control of its front blade and rear tiller provide the ultimate in park shaping ability - even when it's steep.
NEW RENTALS – EQUIPMENT AND PROCESS
Maybe the only thing better than the "new car smell" is a "new board ride," the latter of which will be available at Mountain High this season thanks to $100,000 in new boards by Burton. Plus, riders will be strapping in faster than ever thanks to the area's new cutting-edge rental system. From industry leader RTP, the new process will eradicate congestion and greatly shorten lines with highly-efficient fittings and quick-capture of the renter's needs and preferences. The new system holds the users information so visitors no longer need to remember their binding settings or equipment size from previous visits. Rental information can also be entered online at mthigh.com as part of Mountain High's new online reservation system, saving even more time once at the resort.
INCREASED SNOWMAKING – REDUCED ENERGY AND WATER USE
Mountain High will be able to make more snow in 2011-2012 than in seasons past, and its retrofitted snowmaking equipment will reduce water use by 5 percent. The resort is also phasing out its use of diesel fuel reflecting its "green" commitment. This combination of conservation and increased snowmaking capacity stems its addition of a new 4400 CFM electric compressor and several automated snowmaking fan guns than can turn themselves on and off in response to changes in meteorological data. With less reliance on fossil fuels, Mountain High is paving the way towards a greener planet. On a good night, the Wrightwood Resort can make enough snow to cover a one mile stretch of the 405 with a foot of new snow –now they can do it with less water and less fuel.
FOGGY GOGGLE LOUNGE
The Foggy Goggle Lounge is the new home of après ski at Mountain High. Located within 20 yards of the Roadrunner and Coyote lifts, guests can stop for a quick break or linger and enjoy table service featuring seven different beers on tap and weekly microbrew specials. They can also order juicy burgers (Including veggie burgers), succulent pulled pork sandwiches, and ¼ pound Brats hot off the grill. The new lounge will stimulate the personality of the deck with relaxed seating, open-air fireplaces, and a white canopy set against a backdrop of towering pines. Toasty heaters will keep guests warm as will frequent performances by live bands and DJs.
EXPANDED NIGHT LIGHTING
Mountain High is the only local area to offer night skiing and riding five nights-a-week. This year they increased the lighting throughout the West Resort and in the Playground Jib Arena giving nocturnal visitors an even better experience. Night skiing and snowboarding are fantastic alternatives for those who have to work during the day or just love being under the stars.
"Mountain High's substantial array of upgrades for the 2011-2012 season will deliver an enhanced experience to everyone that visits Southern California's favorite winter resort," said Karl Kapuscinski, President and CEO, Mountain High. "We listen to our guests and these upgrades are being made in direct response to their feedback."
---
Mountain High is Southern California's closest winter resort located just an hour and a half from Los Angeles and Orange County. The area consists of three separate mountains (Mountain High East, West, and North), and offers a wide variety of lifts and trails, two world-class terrain parks, an outstanding Winter Sports School, and the region's largest tubing park. Night skiing & snowboarding is available 5 nights-a-week and snowmaking covers more than 80% of the slopes. Mountain High has been the first resort to open in Southern California for the past 13 years and traditionally operates from mid November to mid April. Get more at mthigh.com.