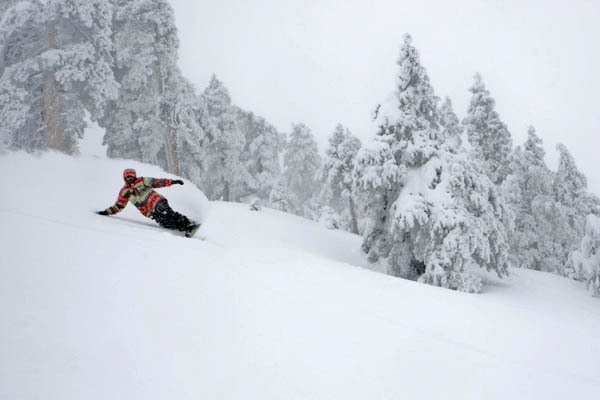 Mountain High and Mt. Baldy, two of Southern California's biggest winter resort names, are giving unprecedented access and value to skiers and snowboarders this winter by offering pass holders three visits during the season to each other's resort.
"Two legendary names in Southern California's winter sports partnering for the coming season is great news for everyone," said Mountain High Chief Marketing Officer John McColly. 
For those living in Los Angeles and Orange County, the easy access to Mountain High and Mt. Baldy makes this partnership an attractive bargain. The offer of three free days is available to 2016-2017 anytime pass holders of either Mountain High or Mt. Baldy Ski Lifts who are in good standing with their home mountain. Holiday blackout dates apply.
"More value for our pass holders is something we're always looking to provide," said McColly. "Having 53 free days at 18 premier resorts by purchasing a season pass to Mountain High is the best value in the region by far."
Additional resorts that skiers and snowboarders have free access to through the Mountain High season pass include Mt. Baldy and Snow Valley in California, Brian Head, Utah, Lookout Pass in Idaho and 14 other resorts in the Powder Alliance.
Mountain High is in the San Gabriel Mountains, just 20 minutes off I-15 in Wrightwood. Visitors have three separate mountains to choose from including Mountain High's West Resort, East Resort and North Resort. With a quick, 90-minute drive from Los Angeles and Orange County, skiers and snowboarders can take advantage of a wide variety of lifts and trails, a world-class terrain park, night skiing and snowboarding seven days per week and more. Skiers and snowboarders can follow all the action daily at Mountain High from its website.
Mt. Baldy Ski Lifts, located in the Angeles National Forest, is home to the most advanced alpine terrain in Southern California. It offers tubing in addition to skiing and snowboarding daily until 5:00 p.m. Learn more about Mt. Baldy on its website.
For more information about Mountain High visit www.mthigh.com, call 888-754-7878 or follow on Twitter @mthigh and Instagram @mthighsnow. For more information about Mt. Baldy, visit www.mtbaldyskilifts.com or call 909-982-0800.
About Mountain High
Mountain High is Southern California's closest winter resort, located just 90 minutes from Los Angeles and Orange County. Mountain High Resort consists of three separate mountains: West Resort, East Resort and North Resort. Mountain High offers a wide variety of lifts and trails, a world-class terrain park, an outstanding winter sports school and the region's largest tubing area. Night skiing and snowboarding are available seven nights-a-week during peak season and snowmaking covers more than 80% of the slopes. Mountain High, the first resort to open in Southern California for the past 18 years, operates from mid-November to mid-April. Visit www.mthigh.com for more information. Mountain High is an equal opportunity service provider operating under an Angeles National Forest special use permit.
# # #