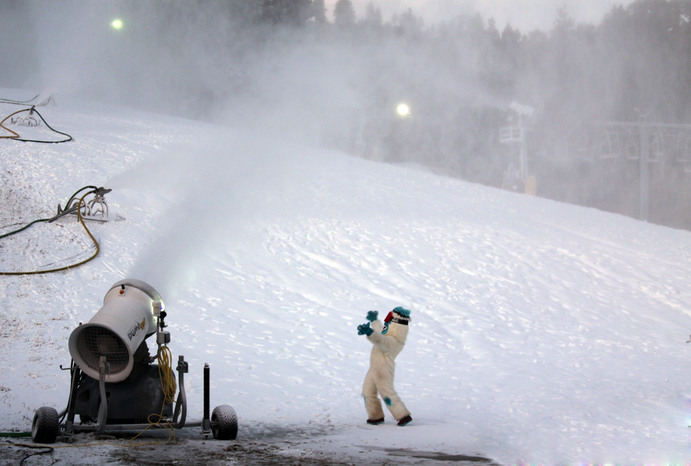 Cold temperatures and recent snowfall will allow Mountain High to open for the 2015-2016 season on Friday, November 6. Mountain High invites skiers and snowboarders to take advantage of the cooler weather by kicking off the season on Cruiser trail and testing out tricks in the rail garden.
The Coyote chairlift will operate from 8:30 a.m. to 4:00 p.m., taking skiers and snowboarders up to Cruiser. This beginner to lower-intermediate trail is perfect for dusting off cobwebs and getting your style back. Freestyle skiers and snowboarders can access 8 to 10 features including jumps, rails and funboxes.
Mountain High's season pass window will open at 7:00 a.m. and the Big Pines base lodge will be open at 8:00 a.m., serving hot coffee and grab 'n' go food items. Visitors are encouraged to arrive early, as available trails and terrain are limited. Day passes are available for $25 until the resort is open top to bottom, which is anticipated to happen by Saturday, November 14. Ski and snowboard rentals are available but no lessons will be taught until the necessary terrain is available.
"We are excited about the season and expect it to be epic with tons of El Nino snow," said Mountain High Chief Marketing Officer John McColly. "We wanted to open as soon as we could to get folks out on the trails and enjoying the long-awaited 2015-2016 winter season."
Skiers and snowboarders can follow all the action daily at mthigh.com
For more information about Mountain High visit www.mthigh.com, call 888-754-7878 or follow on Twitter @mthigh.    
About Mountain High
Mountain High is Southern California's closest winter resort, located just 90 minutes from Los Angeles and Orange County. Mountain High Resort consists of three separate mountains: West Resort, East Resort and North Resort. Mountain High offers a wide variety of lifts and trails, a world-class terrain park, an outstanding winter sports school and the region's largest tubing area. Night skiing and snowboarding are available seven nights-a-week during peak season and snowmaking covers more than 80% of the slopes. Mountain High, the first resort to open in Southern California for the past 18 years, operates from mid-November to mid-April. Visit www.mthigh.com for more information. Mountain High is an equal opportunity service provider operating under an Angeles National Forest special use permit.     
# # #