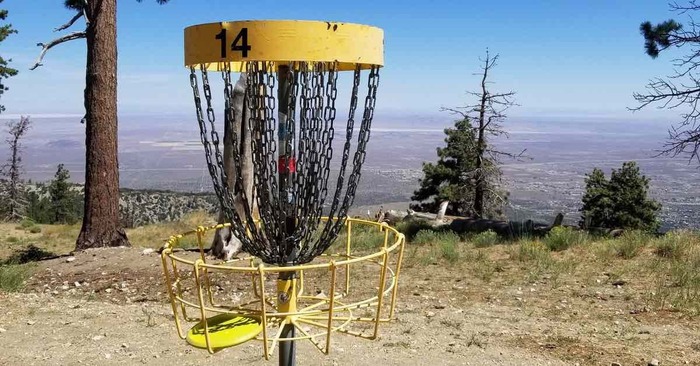 Want to play one of the world's best disc golf courses? Mountain High's Sky High Disc Golf Course was just ranked #4 ski resort course in the world by UDISC.COM, the #1 disc golf app and directory. 
https://udisc.com/blog/post/the-10-best-disc-golf-courses-at-ski-areas
About one and half hours from downtown Los Angeles in the Angeles National Forest is Mountain High's Sky High Disc Golf Course. Thanks in part to its proximity to the City of Angels, Mountain High Resort is one of SoCal's most popular skiing destinations and has offered disc golf in the summer for almost a quarter century now.
Sky High was originally designed by Dave Dunipace – a co-founder of Innova, one of the oldest and biggest disc golf equipment makers – and its 27 holes can be played in various combinations to suit players at most any level.
Score: 81.74/100
Number of Holes: 27
Par: 81
Distance: 7,234 feet/2,205 meters
Tees: Rubber, Concrete, Asphalt
Targets: DISCatcher Pro
Fee: $19 for a 27-hole round
Course Established: 1999
Availability, photos, layouts, current course conditions, and more: Sky High at Mountain High North on UDisc Courses
---
Three Reviews of Sky High From Disc Golfers on UDisc
Fantastic course on a mountain and about a one hour drive (if no traffic) from L.A. area. 27 holes with three nice, distinct sections. One huge, epic downhill hole and many others to test your arm. It's on a mountain, so pretty much what you'd expect with trees etc. Lots of up and down so you'll definitely get your exercise! Nice burger/sandwich place that sells discs etc. make it pretty perfect for summer. // floydpinkie
The best course I've played in SoCal. I didn't have any issues with the rubber pads being dusty or uneven. The baskets caught extremely well, despite what I heard from others who play the course regularly. Only one pad was covered in half by snow, not a big deal. Had a lot of fun! // 
jaymesb
Pretty spectacular. Be prepared for the hike! // travematics
---
 You can check out the course and its spectacular views a bit for yourself in this video from Mountain High Resort: