Escape to the Big Pines region of the Angeles National Forest. We offer numerous campgrounds to choose from with more than 100 spots available. This season, we've extended many of our camping schedules with some campgrounds open year round.
Table Mountain - Extended through Sunday, November 6th.
Jackson Flats - Extended through Sunday, October 16th.
Mountain Oak - Open year-round
Lake Campground - Open year-round
---
Extreme Fire Danger
The Angeles National Forest is elevating the "Fire Danger Level" from "Very High" to "Extreme". This means big changes to the fire restrictions for visitors. Please click here to learn more.
View Current Fire Restrictions
---
The great outdoors awaits just 1.5 hours from LA and 2 hours from San Diego. Activities include Disc Golf, Nature Hikes, Fishing at Jackson Lake, and delicious food at the North Lodge Grill & Pub. Campgrounds are open for walk-up registration at our North Resort.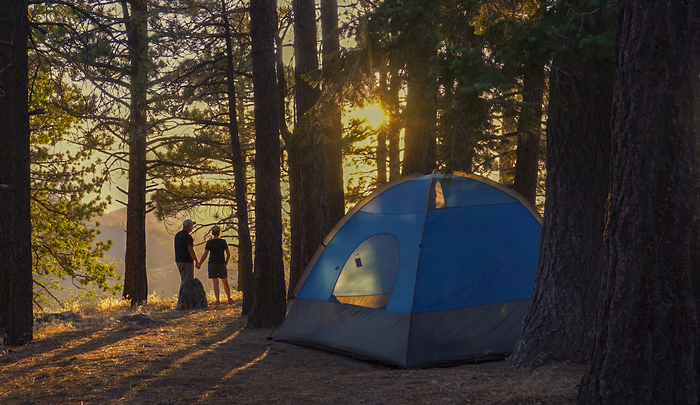 Table Mountain Campground
Neighboring with our North Lodge, Nature Trail, and Sky High Disc Golf Course, the Table Mountain campground offering 100+ campsites with activities & refreshments just a short distance away.
Campsites are nonelectric, fit a maximum of 8 people, and are RV accessible. Learn more at https://www.recreation.gov/camping/campgrounds/233735
---
Mountain Oak Campground
Our Westernmost campground, Mountain Oak has just 16 campsites making it a quiet and relaxing place to escape. The scenic location and close proximity to Jackson Lake make it a perfect place to unwind with fishing, canoeing, and swimming just minutes away.
Campsites have flush toilets, fire pits, and water faucets available. RV's up to 18' are permitted. Learn more at https://www.recreation.gov/camping/campgrounds/233733
---
Lake Campground
The Lake Campground sits directly on the shores of Jackson Lake offering access to fishing, swimming, and canoeing. The smallest of our campgrounds, Lake Campground has just 8 campsites giving you plenty of privacy and space to stretch your legs.
Amenities include food storage lockers, grills, toilets and drinking water. Learn more at https://www.recreation.gov/camping/campgrounds/233734
---
Jackson Flats Campground
Jackson Flats is a "group" camping facility located next to the beautiful Grassy Hollow Visitor Center which hosts numerous nature programs, hikes, and activities on Saturdays during the summer. Tent camping only. no trailers. Please bring drinking water. Non-potable water is available for washing & cleaning.
Campsites are nonelectric, fit a maximum of 8 people, and are RV accessible. Learn more at https://www.recreation.gov/camping/campgrounds/233732
---