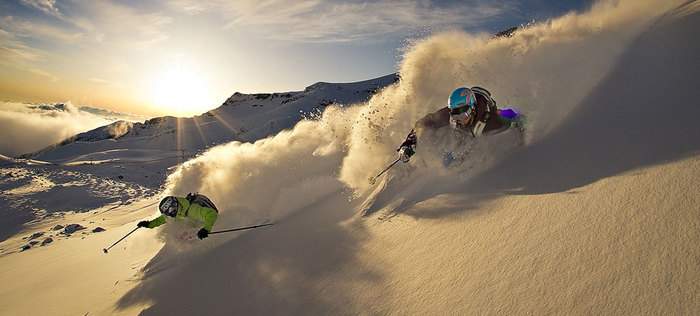 Want to ski the snowy slopes of South America next summer?  Get three days at La Parva, Chile when you add Powder Alliance benefits to your 17/18 Season Pass purchase for just $99.  Sale begins September 1, 2017.  Also includes three days at Snow Valley, CA, three days at Brian Head, Ut, three days at Sierra At Tahoe, CA, and three days at Crested Butte, CA.  18 resorts in all.  That's a $3,500 value!  Restrictions apply.
This season the Powder Alliance proudly welcomes La Parva, Chile and Bogus Basin, ID.  
La Parva, Chile http://www.laparva.cl/
Located just 40 miles from Santiago, Chile, La Parva offers more than 27 miles of trails and 250 inches of snowfall annually.  Its winter season extends from June to September making it the perfect addition to the primarily North American-based Powder Alliance.  
La Parva consists of 15 lifts, 48 trails, and 3,021 feet of pristine vertical.  There is a large snowboard park, several downhill race courses, and nearby heli-skiing operations.  With modern buildings that seem to hang from its slopes, La Parva offers both hotels and private condos filled with world-class amenities.   
Learn more about this exciting new addition to the Powder Alliance at http://www.laparva.cl/
Bogus Basin, ID http://bogusbasin.org/
Bogus Basin is Idaho's second largest winter resort with 2,600 incredible acres just 16 miles from the state's capital in Boise.  This year they are celebrating their 75th winter in operation and have announced more than $4 Million in improvements for both winter and summer.  
Bogus Basin is easy to fly to, easy to drive to, and because it is so close to Boise State, it offers terrific terrain parks and night riding 7 nights a week.  1,800 vertical feet, 3 high-speed quads, 10 lifts in all, plus another 23 miles of sweat-popping Nordic terrain.  At 7,582 feet, its summit is the highest point in the Boise Ridge Mountains offering breathtaking views of the valley below.
Discover the warmth and charm of Bogus Basin for yourself this season at http://bogusbasin.org/
Add Powder Alliance benefits to your Mountain High Season Pass and receive three (3) days at these resorts and all the rest.  That's 54 tickets each winter!  Restrictions apply and all tickets must be used in the same season as the accompanying pass.  Visit www.powderalliance.com for a complete list of participating resorts.  Get ready!  The 17/18 $299 Season Pass Sale begins September 1st.