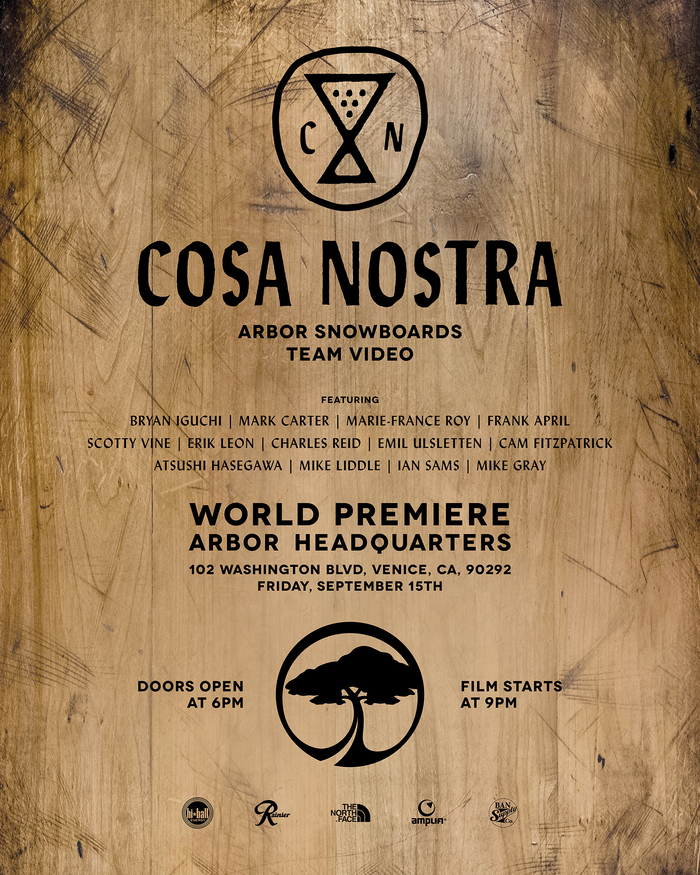 Arbor Snowboards invites you to join them on Friday September 15th at Arbor Headquarters (102 Washington Blvd, Venice, CA, 90292) from 6pm - 10pm for the world premiere of Cosa Nostra, Arbor Snowboards' first full-length team video. The entire Arbor Snowboards team including Bryan Iguchi, Frank April, Marie-France Roy, Mark Carter, Scotty Vine, Charles Reid, Erik Leon, Emil André Ulsletten, Cam FitzPatrick, Mike Liddle, Ian Sams, & Mike Gray will be in attendance. Come meet the team, have a few beers on us, and win some free gear!
Beer will be provided by Rainier and we will have a huge raffle at the end of the night for snowboards, bindings, boots, skateboards, Mountain High Tickets and Season Passes, and a ton of other gear from Arbor and the sponsors of 'Cosa Nostra'. Music requests will be satisfied by the one and only DJ Glenice.
Please pre-purchase your tickets in the ticket link. Tickets will get you entry to party, access to the open bar, dance floor, product raffle, and pro-team signing. Proceeds from the event will be donated to Protect Our Winters. All ages are welcome. Must be 21+ to drink. 
6PM: Doors Open
6:30-7PM: Pro Team Signing
7PM-9PM: Drinks, Photo Gallery, Meet & Greet
9PM: Screening of Cosa Nostra
10PM: Raffle and Giveaway
10PM-1AM: Cosa Nostra Afterparty @ The Rose Room. Free entry with a wristband from Cosa Nostra World Premiere. (6 Rose Ave, Venice, CA, 90291)
Purchase $5 EARLY BIRD tickets here: https://www.eventbrite.com/e/cosa-nostra-premiere-arbor-venice-tickets-36421172708