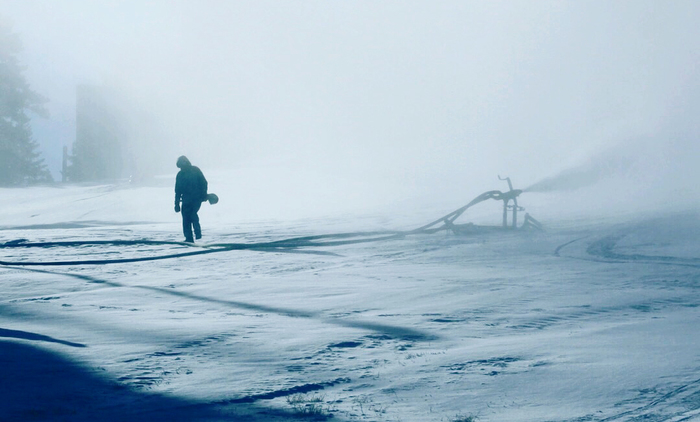 Mountain High is open for the 22/23 winter season with the best early-season conditions in years. Click here to view the current Snow Report. Please note the following early-season changes.
Night riding is available Friday - Sunday from 5pm-10pm.
Parking is FREE weekdays, $20 weekends and $10 from 4pm-9pm. Parking is ALWAYS free in the lower lot at West.
The Yeti's Snow Play is open weekends & holidays from 9am-4pm.
---
Snowmaking
Snowmaking is essential to Southern California's Resorts and Mountain High has one of the largest snowmaking systems in the state. This year we invested more than $200,000 in our snowmaking system and can make more snow than ever before. With good conditions, we can make enough snow to cover a one-mile stretch of the 405 freeway with a foot of new snow overnight. Here's an important fact. SNOW MADE AT THE RESORT IS REAL SNOW. There's nothing artificial about it. Snow crystals, however they are produced, are simply minute crystals of frozen water.
Early season we make snow at every opportunity so please be prepared with a beanie, goggles, and something to warm your face. Something as simple as a bandanna or facemask can make all the difference when snowmaking is underway.
---
Tickets & Passes
Purchase tickets online for the best rate. Lift Tickets are minimally $10 more at the ticket windows. Ticket sales may be limited to reflect the reduced terrain so get yours today and save.
A Season Pass is the best way to access the resort and pays for itself in just 5 visits. Pass holders receive unlimited access to the mountain, day and night, with no blackouts. NO RESERVATIONS NEEDED. Hurry, sale ends Nov 30th.
---
Rentals
Rentals are available at the resort. With more than $200,000 in new skis and snowboards, we have the best equipment at the best price.
---
Lessons 
Group Lessons are available for ages 7 and up. Private lessons are available for ages 3 and up. Lessons do sell out especially on weekends and holidays so be sure to reserve yours ahead of time. All lessons are taught at the West Resort. Group lessons are 2 HRs long and begin at 10am and 1pm. Private lessons are available every hour from 9am to 3pm. Questions? Please email us at wsc_reservations@mthigh.com
---
Parking
Parking is currently FREE weekdays, $20 weekends, and $10 from 4pm-9pm. Parking is always FREE in the lower lot at West and the main lots after 8pm. Learn more on our parking page.
Snowy days are heading our way. Spend your winter with us at Mountain High.