Sat Dec 10 - 6 PM - 8 PM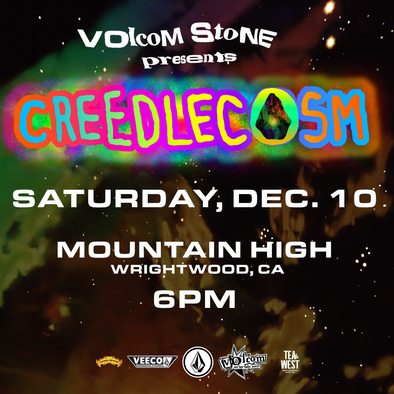 Watch the latest Volcom Stone movie Creedlecosm and follow several legendary Volcom team riders through the streets and backcountry. Click here to learn more.
Riders:
Mike Rav
Scott Blum
Desiree Melancon
Egan Wint
Seb Picaro
Benny Milam
Lenny Mazzotti
Arthur Longo
Torgeir Bergem
Pat Moore
Bryan Iguchi
Jadyn Chomlack
Juliette Pelchat
Estelle Pensiero
Jamie Lynn
Alec Majerus
Simon Bannerot
 Watch Creedlecosm, a Stone-lore chrysalis of endless riding possibilities.
---
VOLCOM SALE
All Volcom merchandise will be discounted 20%! We're introducing Volcom goggles that day as well. Save 20%.
---
Todd Proffit
(760) 316-7835
todd_proffit@mthigh.com
West Resort, Foggy Goggle Bar