Sat Aug 27 - Sun Aug 28 - Competition begins at 8:000am
2022 Sky High Showdown Presented by Innova Champion and Ritual Brewing – Weekend #2: Amateur weekend
**REGISTRATION IS FULL**  Don't miss this Sky High Showdown, our largest event of the summer, Saturday & Sunday, August 27-28, 2022.
Pool A - MA3/MA4/MA50/MA60/FA1/FA2/FA3/FA40/All
Juniors: Round 1 - Saturday, 8am shotgun start Round 2: Sunday, 1pm shotgun start
Saturday morning Pool A check in from 6:45 - 7:25am (turn in signed release form, get players pack)
7:30am super brief players meeting in parking lot in front of Lodge, proceed to holes for 8am sharp start time
Pool B - MA1/MA2/MA40
Round 1: Saturday, 1pm shotgun start Round 2: Sunday, 8am shotgun start
Saturday morning/afternoon Pool B check in from 11:30am - 12:15pm (turn in release form, get players pack)
12:30pm super brief players meeting in parking lot in front of Lodge, proceed to holes for 1pm sharp start time
Hole assignments will be forthcoming on the PDGA event page early on the week of the event.
Check the Facebook page for fun sponsor info and other tidbits of usefulness.
Please note the Sky High Disc Golf Course is CLOSED to the general public Saturday (until 5pm) and Sunday.
Competitors will be playing two 27-hole rounds (one per day).
All players will receive a fine meal (burger, chips, drink) after the completion of their round on both days. Please specify if you want a veggie burger.
No outside alcoholic beverages are permitted on site. Sky High has beer and wine for sale. There may be some tasty Ritual Brewing Co. offerings!
All Am players will receive a generous players pack which will include two custom 2022 Showdown stamped premium discs and lots more.
Players are limited to the first 180 participants. 
All players must know and adhere to PDGA guidelines for play during COVID: https://www.pdga.com/pdga-documents/tour-documents/requirements-and-best-practices-pdga-sanctioned-play-during-covid-19?page=4
We will be playing two rounds of 27 holes, one round per day with tee times starting at 8am. 
For Amateurs this is a trophy-only event (first place trophy only).  All Am players will receive a generous players pack which will include two 2022 Showdown stamped discs and more (thank you Innova and friends!).  The players pack may get bigger if we sell enough CFR discs so help out and buy one.  
The size of the player's pack will be determined after deducting costs which will include the course fees, sanctioning and insurance, and fees of $2 to the PDGA and $2 to SoCal Disc Golf Association for all.  $10 will be charged and paid to the PDGA for each non- or non-current member, $5 additional will be charged if not a current SoCal DGC member.  Join SoCal DGC @ https://events.discgolfunited.com/disc-golf-tournaments/event-detail.cfm/tourn_id/10902
A point of clarification for SoCal Disc Golf Club members: Successful completion of the two rounds will result in you being awarded 15 base participation points from this event for the 2022 series. At the 2015 Annual Meeting, the membership voted to award 5 participation points per 18 holes completed; two rounds at Sky High = 54 holes = 15 base participation points. For more points beat people in your division!
CFR discs for sale? You bet, and they are sweet: Galactic Polecats, Halo Destroyers and Color Glow Champ Wraiths. Look good and throw well. Fundraiser discs with the custom tourney stamp are available and all proceeds will go to the payout. INNOVA hooked us up as they always do!
Cancellation/refund policy: See link for the PDGA's Amendment to the Competition Manual, 1.03: https://www.pdga.com/announcements/pdga-competition-manual-103-withdrawals-and-refunds-amended-temporarily In summary, if everything goes bad again and governmental guidelines and mandates change and we are unable to play, all Pros will be refunded their entry fee (less DGU processing fee). We may be quite hopeful that this won't happen.
Thanks go out to INNOVA Champion Disc Golf, Ritual Brewing, Disc Golf Values, Audet Construction, Cory Marsteller, the Wrightwood Market, DRYVE Disc Golf, Team Drunk and Disorderly, and some other committed Sky High friends for their generous support (more info soon!). You'll be hearing more about our sponsors through the wonders of the event page on Facebook soon enough. A special thanks go out to Mike and all of the good folks at Sky High who make being at our favorite course so special.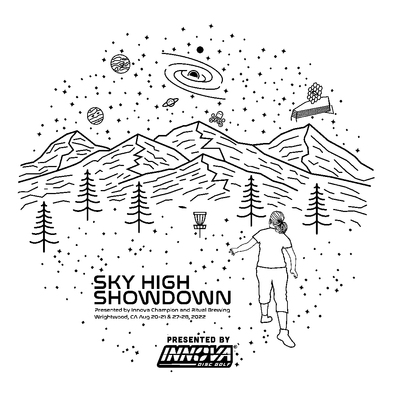 ---
CONTACT: Bill Maury-Holmes @ bmauryholmes@gmail.com or North Lodge @ (760) 316-7828
LOCATION: Mountain High's North Resort