Sat Apr 1 - 10am to 4pm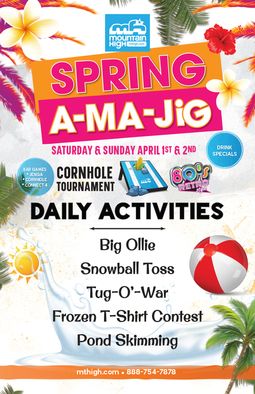 Don't miss Spring-A-Ma-Jig, our annual Spring Break Celebration with games & activities for both kids & adults. All events are free with paid admission. Daily activities include:
DJs
Drink Specials 
Cornhole - Register before 11am. Teams of Two (2). $20 Team Buy-In. Winner takes home 50%.
Special appearances by the Yeti
Time
Event
Prize

10am

Big Ollie

Mountain High Prize Pack

Snowboarders must Ollie over an ever-rising bar.  How HIGH can you get?

11am

Snowball Toss

Mountain High Prize Pack

This one is for the kids.  Snowball-themed water balloons are tossed back and forth until they break.  Hopefully not yours!

12pm

Tug Of War

Mountain High Prize Pack

A new spin on an old favorite. This tug of war takes place in the snow and the losing team might end up in the pond.

1pm

Frozen T-Shirt Contest 

Mountain High Prize Pack

Ten (10) T-shirts have been frozen in the icy tundra of Mountain High's North Resort. Competitors must break them apart and put them on (over their clothes). The first contestant to put on their frozen shirt wins a goody bag filled with Mountain High swag.

2pm

Pond Skimming

N/A

Pond Skimming is the quintessential event of any spring break. Skiers and snowboarders must cross a 60-foot pond filled with freezing cold water or suffer the consequences. Helmets Required!

3pm

80's Costume Contest

2023/24 Cali Pass

Wear your best 80s ski outfit and you may take home a brand-new 2023/24 Cali Pass. Open to men and women. Winner chosen by audience participation. Must be at least 10 contestants to hold the event.
---
Todd Proffit
todd_proffit@mthigh.com
760-316-7835
West Resort