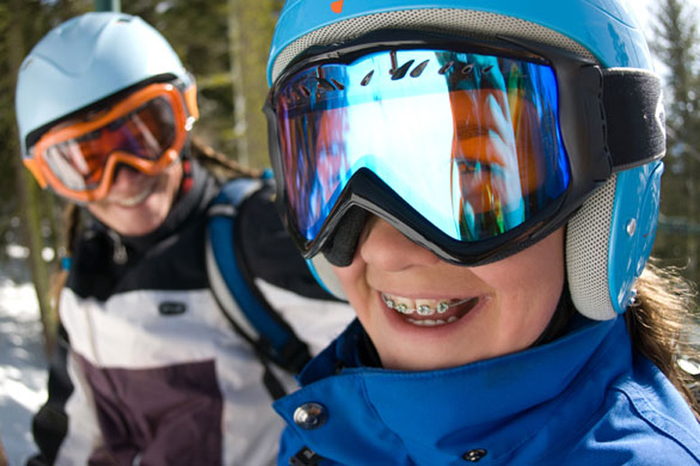 Adults and children alike will take to the snow faster than ever in Mountain High's new Family Learning Center. On-snow devices or "teaching aids" have been integrated to help students understand and initiate basic concepts such as turning, stopping, balancing, and control. These devices include banked platforms, archways, colorful characters, and more. Instructional props are not only fun but effective because they quickly get students gliding up, down, over, and around them feeling the proper movement of their equipment, not just hearing about it.
Once guests have their skills in check, it is time to take a trip through Mountain High's new Magic Forest filled with fun discoverables such as hidden animals, humorous safety messages, and historic artifacts. They might even catch of glimpse of the Winyetti, Mountain High's signature abominable snowman. Areas like the Magic Forest are captivating and get students looking up, focusing on the environment and not their equipment for a more natural and interactive learning experience. Children who had trouble grasping the cognitive dynamics of a turn have no trouble turning when there is a playful deer waiting to be petted.
During mid-day breaks or when the lesson is done, families can warm up with a cup of hot coco in the newly remodeled Warming Hut located just steps from the teaching terrain. Children can also burn off extra energy in the new Play Center filled with kid-sized swings, rock walls, ropes, and slides.
Click here to plan your day at Mountain High's Children's Academy and the new Family Learning Center.
By John McColly