Sat May 20 - Sat May 20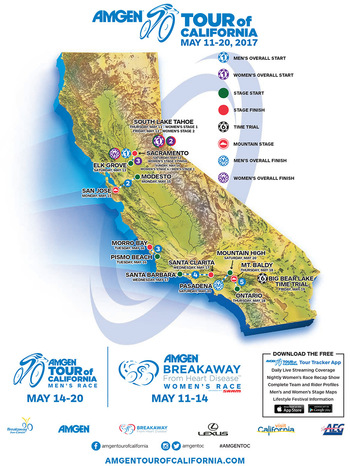 Stage 7 – Mountain High to Pasadena, May 20, 2017 
The Amgen Tour of California returns to the Mountain High ski resort for the start of the final stage. While this will be a fast and largely downhill run into Pasadena, the riders will have two significant climbs that will top out at over 7,900 feet. The crowds in Pasadena will be watching the top teams try to deliver their sprinter to the line to claim the finish.
Title sponsor Amgen has been a race partner since race inception. In 2005, Amgen launched Breakaway from Cancer®, its national initiative to increase awareness of important resources available to people affected by cancer - from prevention through survivorship. Last year, Amgen expanded its platform as it launched Breakaway from Heart Disease™, aimed at encouraging Americans to take charge of their heart health by understanding their family's history of heart disease and getting active through cycling. To learn more, visit breakawayfromcancer.com and breakawayfromheartdisease.com.
"At Amgen, our mission is to serve patients, and for more than 35 years we have used science and innovation to dramatically improve lives," said Raymond C. Jordan, senior vice president of Corporate Affairs at Amgen. "Our sponsorship of the Amgen Tour of California gives us the opportunity to help patients impacted by cardiovascular disease and cancer take charge of their disease. The Breakaway from Heart Disease and Breakaway from Cancer initiatives give patients and their loved ones vital education and resources to help them through their journey".
To experience the race as a VIP from an all-inclusive hospitality tent or through exclusive once-in-a-lifetime opportunities, visit the Amgen Tour of California website at amgentourofcalifornia.com/vipaccess or call (213) 742-7145.
---
http://cdn.amgentourofcalifornia.com/home
http://cdn.amgentourofcalifornia.com/home